The blind flange (
BF
) does not have a bore. It is used to blind off a flange or even a valve. When used at the end of a pipe or fitting, it provides an easy to open access for further extension of the pipe. The blind flange and its bolts are stressed more than any other flange. This flange has a raised face.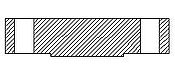 ASME B16.5 are flanges for sizes 1/2″ to 24″.
ASME B16.47 Series A and B are large diameter flanges for sizes 26″ to 60″.

Series A / MSS SP-44

For general use
Bolt circle diameter is larger than Series B
NOT interchangeable

Series B / API Std 605 (cancelled)

For compact use
Bolt circle diameter is smaller than Series A
NOT interchangeable

This is the size differences between a 150 to 2500, 4″ blind flange (BF).